Friday, October 14, 2011

See more details about Lodge

See more details about Olympian

See more details about One Steamboat Place
I often am asked which condos rent the best in the Steamboat Springs real estate market. This is usually answered simply and overwhelmingly with ski-in ski-out. However, rental income for a ski-in condo will vary depending on the condition of the residence. A newer or recently renovated condo within walking distance to Steamboat skiing will cost much less and see higher rental revenues than a fixer-upper ski-in condo. I've had a couple of owners of slope-side condos recently state they barely covered their home owner association (HOA) and resort management fees last two seasons. This is due in part to the slow economy and increased inventory from a building boom in 2007, but is also due to the price point and the condo rating. Price conscious travelers in many instances are opting for a Trappeurs condo, such as Emerald or Bear Lodge, because they can get higher quality and another bedroom for the same price. Bear Lodge is about 2 blocks East of Gondola Square. At times, a 3 bedroom will rival the rental price of a 2 bed ski-in. Patio units with private hot tubs are popular as well. The quality finishes and convenient amenities like pools, hot tubs and fitness rooms add value. Many travelers will choose to walk a block to skiing for a 4 star or A-rated experience. A trend we are seeing near the slopes is older buildings taking on a new look. The West and The Phoenix, both within walking distance to the slopes, have beautiful new exteriors. The assessments were steep, but the payoff of the HOA special assessment (if not paid by seller already) can always be negotiated in a contract to purchase. For example, many condominiums at the West could use kitchen upgrades to boost rental demand; regardless, a studio condo netted an income after HOA fees, management fees and taxes. Depending on your personal use, its typical to see rental incomes offset those carrying costs before your debt service. Prices are around 20 to 40% off our high sales in 2007. Several condominium developments within walking distance to Steamboat's Gondola Square and ski slopes are worth investigating before the winter sales season because they may be new, newly renovated or show consistent rental revenue from good management and marketing. Under $500,000 look to are The West, Phoenix and The Lodge at Steamboat. Over $500,000 but under $1,000,000, and for more bedrooms, look to Emerald or Bear Lodge at Trappeurs. If you don't mind a short walk to the slopes and rental income is important to you, look past the slopes and you will certainly find more bang for your buck without sacrificing convenience. Contact me for more information today.
Technorati Tags: Steamboat Springs real estate, ski-in ski-out, ski-in, condo, slope-side, Trappeurs, Emerald, Bear Lodge, Gondola Square, West, Phoenix, The Lodge at Steamboat

See more details about Lodge

See more details about Olympian

See more details about One Steamboat Place
Monday, September 12, 2011
In the last few weeks new pricing and financing have resulted in closed sales totaling $9 million. Another $8.9 million in sales are under contract and pending closing, and a large number more are in active negotiations!
Located slopeside at the gondola, One Steamboat Place's convenient setting enables Owners to step out of their slippers and into their ski boots for a fun-filled day on the mountain.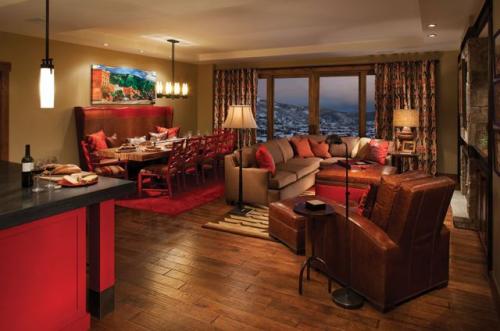 . Uniquely residential yet rich with five-star services and amenities, there is a sensational spa; wine cellar; a fitness and wellness center; valets for cars, bikes and skis; and fabulous mountain view dining at the Truffle Pig. Best of all, with ownership comes worldwide access to the incredible Timbers Resorts portfolio of properties.
Here is a snapshot of the offerings at One Steamboat Place:
Summit Club Memberships, $70,000
Three-Bedroom Interests, $220,000
Four-Bedroom Interests, $330,000
Whole Ownership, $1,395,000 to $3,495,000
Contact me for more information on these exciting opportunities to own Steamboat real estate
Technorati Tags: new pricing, closed sales, slopeside, gondola, One Steamboat Place, spa, wine cellar, Truffle Pig, Timbers Resorts, Steamboat real estate
Friday, November 19, 2010
Ok… the good news first - Champagne Powder® snow is on order along with the usual turkey and trimmings! Steamboat will be serving up a full plate of fun with 5 lifts, approximately 926 acres and 66 trails, including much of its legendary tree-skiing terrain in Shadows and Closet. For just $30, Steamboat will dish out a lift ticket on opening day, Wednesday November 24th, and donate all proceeds to benefit the local youths in the Steamboat Springs Winter Sports Club. We haven't seen early season conditions like these since 1996/97 winter. A series of storms have dumped nearly 4-1/2 feet of snow this month and 6 feet of snow since October 23rd at Thunderhead, the resort's mid-mountain location at 9,080 feet. Steamboat is currently reporting a remarkable 52-inch base at the summit, the largest ever seen for an opening day. And snow will continue to accumulate starting Sunday and lasting till the opening on Wednesday.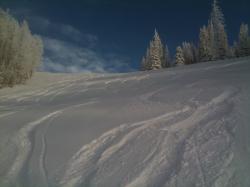 Meteorologists are calling for a La Niña weather cycle this winter and Steamboat often does very well during the stronger events. So far so good! Mike at SnowAlarm and I decided to hike to Hurricane this past week to send you a taste of what's on tap for this winter - powder skiing! Oh - did I mention that One Steamboat Place is in foreclosure? Lets keep with the good buzz and I'll write about this debacle later. Or you can check out the news. https://www.steamboatpilot.com/news/2010/nov/17/one-steamboat-place-foreclosure/ Steamboat Condos is your reliable source for a chance at our lifestyle. Stop by my ski in office and I'll show you around the mountain. And talk about the great deals on real estate in Steamboat Springs, Colorado. Dean Laird Broker/Owner Colorado Group Realty Direct 877-678-0884
Tuesday, August 31, 2010
Construction season in Steamboat is still humming! Along with the promenade at the base of Steamboat Ski Area, the Spring Creek Trail soon will run uninterrupted from Amethyst Drive to the Old Town Hot Springs after a pedestrian underpass is completed underneath Fish Creek Falls Road. City workers were busy Monday beginning preparation work for the project that they expect to complete by the end of next month. See the full story here.
Technorati Tags: Steamboat, promenade, Steamboat Ski Area, Spring Creek, Old Town Hot Springs, Fish Creek Falls
Posted at 2:57:08 PM in Land
Monday, August 16, 2010
Low prices and real estate advertised as "bank owned" is drawing increasing attention to Steamboat Springs.
Steamboat Today's article talks about our foreclosure market. Correcting the paper, Eliese is an owner with Colorado Group Realty, and one of our experts in the Steamboat foreclosure and short sale process.
The desire of those wanting second homes in Steamboat Springs at a significant discount outpaces the interest of real estate investors. We have foreclosures, short sales and distressed sellers, but properties are not exchanging hands at prices where investors looking for rental income can cash-flow a home or condo purchase.
Unlike many other areas in the country, Steamboat Springs perceived value is driving our summer sales. Steamboat is on sale right now, and a strong desire for our lifestyle should force a quick turnaround when other markets begin to recover.
There have several high-dollar foreclosed properties sold in the past few weeks. For the complete report and facts on Steamboat Springs foreclosures and bank owned real estate,call Dean Laird at 877-678-0884.
Technorati Tags: real estate, Steamboat Springs foreclosures, bank owned real estate,
Saturday, August 14, 2010
The city of Steamboat Springs is moving forward on big plans for the future. Completion of the public promenade and utilities is just the tip of the iceberg. New financing looks promising for the Steamboat skiing experience.
New financing plan would not drastically change base area construction plans for the rest of this summer, it would enable completion of the current slate of high-profile redevelopment projects next year. Some final landscaping items could stretch into spring 2012.
says base area redevelopment coordinator Joe Kracum - http://www.steamboat … mboat Today article.
Looking for an upside investment potential in the Steamboat condo market? Keep a close eye on ski-in, ski-out Real Estate for sale.
Call Dean Laird 877-678-0884 to talk about the future of the Steamboat Base Area.
Technorati Tags: city of Steamboat Springs, Steamboat skiing, Steamboat condo market, ski-in, ski-out, Real Estate, Steamboat Base Area.
Monday, August 9, 2010
Similar to your cable bill, it seams every year we see a notice of increase for our water and sewer. http://www.steamboat … t-more-explanation/.
Jay with the Mount Werner Water and Sanitation District points out that

The proposed increases in wastewater treatment fees and tap fees will affect not only residents and businesses in the City District, but also those in the Mount Werner Water District, Steamboat II, and Tree Haus.
Big or little government seems to follow the same path. When times are good they don't take that as a sign it's time to save for the likelihood of bad days ahead. We can't look back; its time to plan for our future and this just may be one of those increases we need to live with.
Meanwhile, there is always that idea to conserve water and I'm guessing you won't see your bill affected as much.
Technorati Tags: Mount Werner, Steamboat II, Tree Haus