Saturday, September 11, 2010
If your family or friends are giving you grief for considering the idea of becoming a ski bum, you may want to point them to this story - who says being a Steamboat ski bum can't pay off?
In 1994, two ski instructors opened the Smart Wool Company.
Smart Wool had another record-breaking year with revenues nearing the $100 million mark and sold more than 10 million pairs of socks in addition to its growing apparel line.
The original owners, Patty and Peter Duke no longer own Smart Wool, but they are positioning themselves to continue the success story with their newest Steamboat Springs-based sock company - Point 6
If that is not enough convincing that doing what you want to do in life can lead to success, see these other successful companies that have spun out of this small Colorado town while Biking, Hiking, and Kayaking.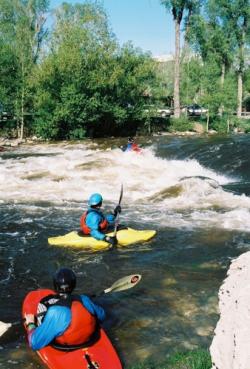 Boa lacing system for shoes and more
Kayaking and Paddling Magazine/
or if you play really hard, you may just end up like this guy.
Johnny Spillane - 2010 Olympic Silver Medalist.
For information on more about the lifestyle in Steamboat Springs, contact a Realtor that has spent his life living in resort towns.
Dean Laird, Broker/Owner
Colorado Group Realty
877-678-0884
Sunday, September 5, 2010
A banging sound outside my window this morning awoke me about 3 AM. Rules to follow in the fall - don't leave your window open next to the trash in the kitchen or you may just bump into a friend looking more than a fresh cup of Joe.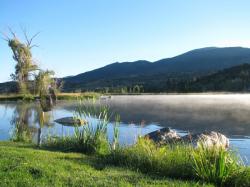 The bears are looking for food, the thermometer is registering at 32 degrees and below, and the aspen trees are turning. It is fall 2010 in Steamboat.
Michelle, Nolan and I spent the past week as a guest of Storm Mountain Ranch. I can't say there is a better way to wrap up summer, than staying home for a vacation, so to speak. I still worked all week, but it just didn't feel like it. The hospitality, landscape and serenity of this majestic setting were beyond words.
We rowed a boat at sunset, caught 9 or so 2+ pound trout on fly rods, fired up the BBQ at night and sat by the beachfront fire. The days were warm enough to play in the sand and water, and cool nights provided for a beautiful sunrise with steam rising from the ponds. There were no lights around you at night, so the stars reminded me my days camping outside civilization. However, this was just 5 minutes to downtown Steamboat Springs! And Nolan - my 3 year old son, reminded me of that - "Dad lets go get dessert at the gas station" - our new nightly routine.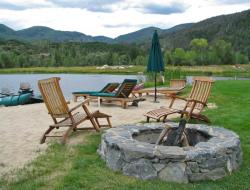 In a week we saw just a fraction of the 1,063 acres. I had heard this is like your own National Park and having visited many in my lifetime, I must agree. The rushing waters of Walton Creek, the towering Walton Creek Falls - also referred to as June Falls, the granite canyons, old growth aspen and spruce trees, elk and deer, and sounds of coyotes at night was just the beginning, I live nearby and can say in all honesty, you had to be there to truly appreciate the lifestyle these 12 owners enjoy.
Our sincere appreciation goes out to Mary and the staff of Storm Mountain Ranch for such a peaceful and enlightening week.
If you would like more information on this "natural sanctuary away from the hectic pace of this world" -
Contact-
Dean Laird - 877-678-0884
Dean@mybrokers.com
Colorado Group Realty - Broker/Owner
Exclusive Listing Broker for "A Log Home Retreat at Storm Mountain Ranch"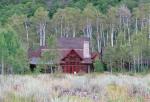 Coming Soon!
Friday, August 27, 2010
Apres ski at Steamboat keeps getting better! I was wondering what all the bustle was outside my office window yesterday and come to find Steamboat Resort tearing into my favorite deck. Favorite, because the Bear River deck provides a birds-eye view of the many free concerts all winter season, the Cowboy Downhill, the fireworks display and Torchlite Parade on New Years Eve, the Cardboard Classic and crazy bathers trying to ski across a pond on closing day.
Drinking beer while taking in the events outside in the winter does have its drawbacks though. Well, it appears Steamboat has come up with a solution for us warm-weather party goers. The deck is being transformed into a new terrace, featuring an umbrella bar which will be a heated and a glass-enclosed facility.
Visitors will be able to take in everything that's going on outside on the mountain from inside the new terrace.
said Ski Corp. spokeswoman Loryn Kasten in the Steamboat Today
Add to that an outdoor fire pit, a new promenade stretching accross the base of the ski area (completion is scheduled for next winter) and heated sidewalks outside my office door and I'm really looking forward to this leisurely winter lifestyle.
Technorati Tags: Apres ski, Steamboat Resort, Cowboy Downhill, Cardboard Classic, Steamboat, promenade, ski area