Wednesday, November 24, 2010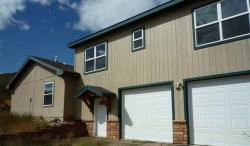 [tag]Bank owned[/tag] - [tag]REO[/tag] (post foreclosure) home deals are seeing price drops, especially in the rural areas of [tag]Steamboat Springs[/tag]. [tag]Willow Creek Pass Village[/tag] located 30 minutes North of [tag]Steamboat Springs[/tag] and 5 minutes from [tag]Steamboat Lake State Park[/tag], provides year-round recreation opportunities for skiers, snowmobilers, hikers, bicyclists, hunters, cross country skiers alike. The neighborhood has seen eleven sales since December 2007 from $400,000 to about $1,000,000. This house at just $150,000 is a bargain at just $75.00 per sqft. Willow Creek Pass is a village of around 140 single-family homes with vacant lots for about 350 more homes. The 8,000 foot elevation provides amazing views of the Zirkel Wilderness, forests of Aspen and Spruce. There is water and sewer to the most of the lots and covenants protect land values, with an HOA (Home owners association to maintain the roads including snow plowing).
Friday, November 19, 2010

See more details about One Steamboat Place
Ok… the good news first - Champagne Powder® snow is on order along with the usual turkey and trimmings! Steamboat will be serving up a full plate of fun with 5 lifts, approximately 926 acres and 66 trails, including much of its legendary tree-skiing terrain in Shadows and Closet. For just $30, Steamboat will dish out a lift ticket on opening day, Wednesday November 24th, and donate all proceeds to benefit the local youths in the Steamboat Springs Winter Sports Club. We haven't seen early season conditions like these since 1996/97 winter. A series of storms have dumped nearly 4-1/2 feet of snow this month and 6 feet of snow since October 23rd at Thunderhead, the resort's mid-mountain location at 9,080 feet. Steamboat is currently reporting a remarkable 52-inch base at the summit, the largest ever seen for an opening day. And snow will continue to accumulate starting Sunday and lasting till the opening on Wednesday.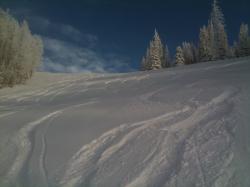 Meteorologists are calling for a La Niña weather cycle this winter and Steamboat often does very well during the stronger events. So far so good! Mike at SnowAlarm and I decided to hike to Hurricane this past week to send you a taste of what's on tap for this winter - powder skiing! Oh - did I mention that One Steamboat Place is in foreclosure? Lets keep with the good buzz and I'll write about this debacle later. Or you can check out the news. https://www.steamboatpilot.com/news/2010/nov/17/one-steamboat-place-foreclosure/ Steamboat Condos is your reliable source for a chance at our lifestyle. Stop by my ski in office and I'll show you around the mountain. And talk about the great deals on real estate in Steamboat Springs, Colorado. Dean Laird Broker/Owner Colorado Group Realty Direct 877-678-0884

See more details about One Steamboat Place