Saturday, January 29, 2022
Colorado Group Realty Charitable Foundation is doing well, but we still need your help. We have donated nearly $500,000 to local nonprofits, (Steamboat Pilot and Today) but what I'm most proud of is how quickly our brokers, clients and friends rallied to help raise about $10,000 for the victims of the Marshall fire in Boulder County this past December. And thanks to ReColorado.com for matching the funds.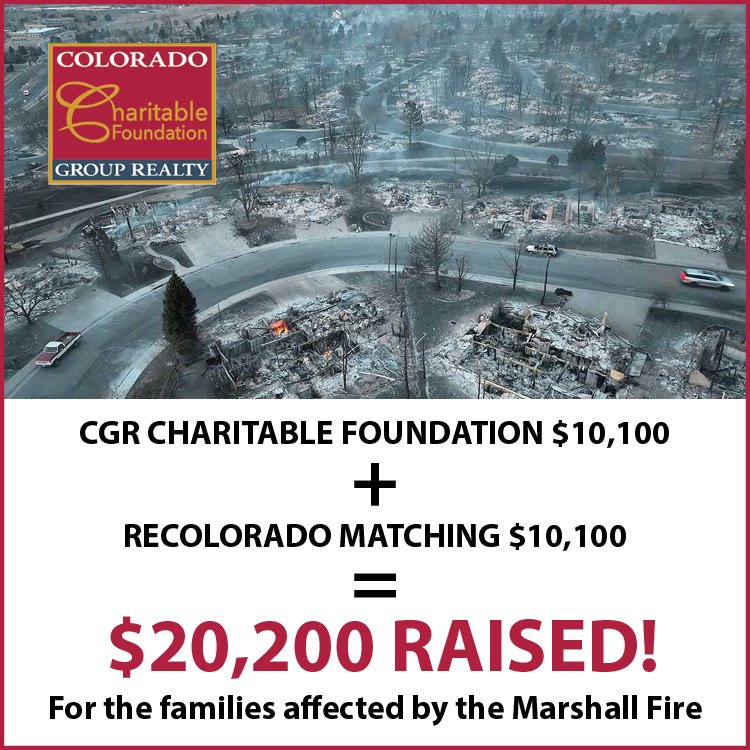 We hope to never see anything like this again, so please - Protect your Colorado home by downloading this Wildland Fire Action Guide (A checklist to help you prepare and gain awareness in the threat of a wildland fire.)
My long-time friend and real estate partner Eliese had moved to Superior and had this to say below. I thought it would be good to post for all to see so we don't forget, these families are still in need.
"We witnessed the fires as they ravaged this area on Dec 30th.  On that day, the grassy open spaces were bone dry (we only received about an inch of rain between July and the end of December when the fire started) giving the fire a path to homes located next to the open areas.  Combined with winds so strong people had to brace themselves to stand upright, homes didn't have a chance once the embers started blowing.  The burned areas are mostly in clusters where 10 or 20 adjacent homes burned to the ground next to neighboring homes that are still standing.   Old Town Superior had over 300 homes destroyed.
The next day, Boulder County got eight inches of snow and temperatures dropped to single digits.  Xcel shut off the gas in every home in both towns then had to go house-to-house re-lighting the pilot lights.  Even though workers came from all over the country, it took days to get heat.  FEMA brought in semi trucks full of space heaters that people could pick up at the shelters.  Water was also shut off so pipes didn't freeze and some people didn't have electricity for days. 
The National Guard tanks rolled in to block off areas and we had to show ID with a Superior or Louisville address to get through checkpoints.
What people don't realize is that even though 1000 people lost their homes, so many others are affected in different ways.    Many people with intact homes still have smoke damage and toxic ash in their homes.  They are also displaced until remediation crews can come in, and those companies are booked out for weeks.  Families with children may not have housing in their school district and are having to transport the kids long distances to school.  Pets are still missing or worse.  Everywhere smells like smoke.
My heart just aches for EVERY family affected, not just the ones that lost homes.  I feel especially bad for the kids who lost over a year of normalcy with Covid, now their lives are interrupted again in an even more terrible way.  I can't even begin to imagine the toll it will take on them. 
Mike and I downsized when we left Steamboat and had everything important in our cars within 20 minutes.  Our area had a mandatory evacuation for 2 days, then water and gas took another 2 days, and the boil water requirement was lifted a day or two ago.   We had no kids at home or pets and we weren't out of town for the holidays like many families who weren't able to grab anything.   The winds died down as the fire got to our complex and firefighters were ready.  I mention this because even though we are just fine and everything is back to normal, it's still been tough living with all the devastation in the area.
The Superior Community Center became one of many locations for people to pick up water, heaters, and home-cooked food.  Restaurants were closed and there weren't enough food trucks to meet the demand, so community volunteers rallied together to help.   I've made over 125 meals so far because there is a shortage of places people could go to get ready made food.  If you are a family living temporarily in a hotel, having a place to go to get something to eat took one task off your list of making it through the day.
Yesterday I saw two fit young guys standing next to the disaster center with a homemade sign that said, "Two guys and a truck.  How can we help?"  and a Facebook post from a homeowner who lost their home saying, "We don't need the money raised in our Go Fund Me site.  Who can we give it to that is  uninsured/underinsured/needing help?"
Seeing the outpouring of support and financial donations is a wonderful thing. The Boulder County Wildfire Fund as of three days ago has collected over $17 million from 52,000 people around the world.  Each family that lost a home has a Go Fund Me site, and the area has been declared a federal emergency area freeing up additional funds.  Many people will benefit from the donations all of you at Colorado Group Realty are making. 
We live in a world full of kind, generous, compassionate people!  So please keep all the families affected by the Marshall Fire in your thoughts as this area rebuilds, and have a wonderful, healthy, successful, happy 2022!"
Another good friend's brother lost his home and his cat.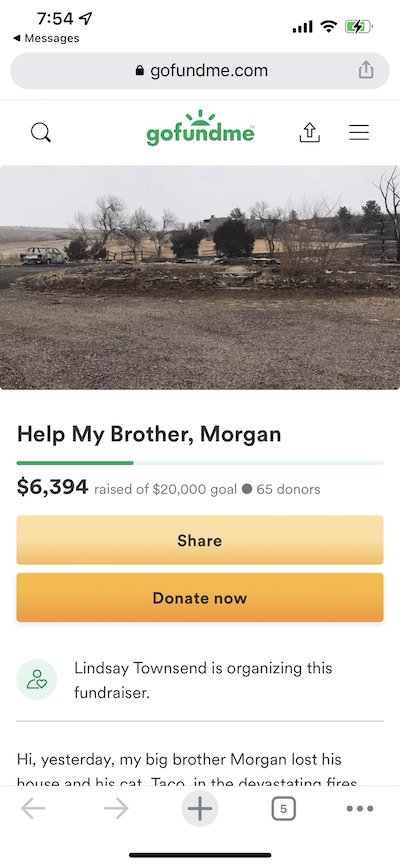 If you can help out Morgan directly, here is his GoFund me site.
Colorado Group Realty Charitable Foundation website, to support our foundation.
Thank you.
Dean Laird, Broker/Owner
Colorado Group Realty, LLC