Monday, August 2, 2010

See more details about Ranch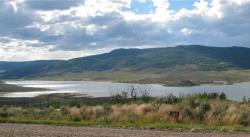 Stagecoach reservoir located just 20 minutes South East of Steamboat Springs has several homes that faced foreclosure and are now owned by the bank - commonly known as REO's.
You can pick up a newly constructed 3, 4 and 5 bedroom new homes with Stagecoach reservoir views for under $150 per square foot as of Aug 1st, 2010.
These are not always listed on the Steamboat Springs Multi Listing Service (MLS) so call 877-678-0884 to request notification when a new foreclosure or bank owned real estate hits the Steamboat market.
Stagecoach has what a second home buyer on a budget will want. A lake with great fishing, boating, swim beach and more. Epic mountain bike, hiking and cross country trails, and with-in 20 minutes of world class skiing at a fraction of the price of Steamboat homes.
The photo depicts the view from a lot soon to be available next to a 5 bedroom home with over 4000 sqft, new construction post foreclosure price of $550,000.
Technorati Tags: Stagecoach, Steamboat Springs, foreclosure, REO

See more details about Ranch