Monday, May 2, 2016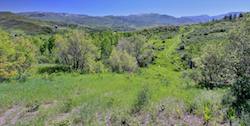 Downtown Steamboat Springs area has 
9 lots for sale with 
prices from $182,900 to $875,000. 4 out of 6 lots for sale are in a business /industrial areas more suited for live / work type buildings, 2 are located in the center of town and ideal for a luxury townhome, another is a very small building envelope in Fairview neighborhood and a commercial lot on 11th St.   
If looking for a single family homesite, the choices near downtown Steamboat Springs are slim. T
his 
2.45 acre lot in Emerald Village neighborhood
 is at the base of Emerald Mountain near Howelsen Hill. 
Privacy, acreage, trail access and a new neighborhood of mountain modern homes close to downtown makes this location one of the most unique you will find. 
There isn't anything like it near downtown Steamboat Springs. See land for sale in downtown Steamboat Springs Colorado.