Saturday, September 4, 2010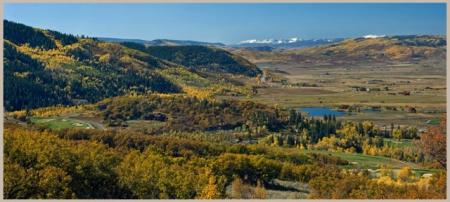 New luxury homes offering the absolute best views Steamboat Springs, Colorado has to offer, are showing up on the southern slopes of Alpine Mountain Ranch. The ranch is a 1,216-acre land preservation development with 63 five-acre homesites down the hill from the slopes of the Steamboat Ski Resort.
The southwestern exposure offers excellent views of the Yampa River valley to the Flat Tops, Priest Creek, Walton Creek riparian corridors, downtown and Steamboat ski area.
The first home to be constructed is around 10,000 sqft, custom built for the home owner who has moved here with his family for full time residency. Seeing an increasing demand for newer construction, 4 or more bedrooms and a bit of land to breath, the owners of Alpine Mountain Ranch felt the time is now to begin a beautiful custom home to be ready for the real estate market by the 1st of the year.
They are asking $4,600,000. To request a brochure for this luxury home or more information on this newer ranch land community just 5 minutes from downtown Steamboat Springs, call Dean Laird - Broker/Owner Colorado Group Realty. 877-678-0884. Or visit my website for more photos and information on Alpine Mountain Ranch.
Technorati Tags: luxury homes, Steamboat Springs, Colorado, Alpine Mountain Ranch, land preservation development, Steamboat Ski Resort, Yampa River, Flat Tops, Steamboat ski area, Alpine Mountain Ranch, real estate market, luxury home, ranch land community, downtown Steamboat Springs, Colorado Group Realty
Add comment
Fill out the form below to add your own comments