Sunday, September 5, 2010

See more details about Storm Mountain Ranch

See more details about Ranch
A banging sound outside my window this morning awoke me about 3 AM. Rules to follow in the fall - don't leave your window open next to the trash in the kitchen or you may just bump into a friend looking more than a fresh cup of Joe.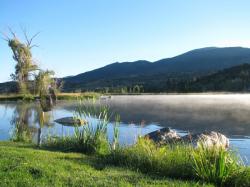 The bears are looking for food, the thermometer is registering at 32 degrees and below, and the aspen trees are turning. It is fall 2010 in Steamboat. Michelle, Nolan and I spent the past week as a guest of Storm Mountain Ranch. I can't say there is a better way to wrap up summer, than staying home for a vacation, so to speak. I still worked all week, but it just didn't feel like it. The hospitality, landscape and serenity of this majestic setting were beyond words. We rowed a boat at sunset, caught 9 or so 2+ pound trout on fly rods, fired up the BBQ at night and sat by the beachfront fire. The days were warm enough to play in the sand and water, and cool nights provided for a beautiful sunrise with steam rising from the ponds. There were no lights around you at night, so the stars reminded me my days camping outside civilization. However, this was just 5 minutes to downtown Steamboat Springs! And Nolan - my 3 year old son, reminded me of that - "Dad lets go get dessert at the gas station" - our new nightly routine.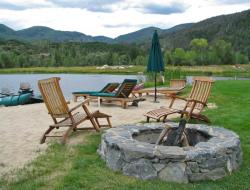 In a week we saw just a fraction of the 1,063 acres. I had heard this is like your own National Park and having visited many in my lifetime, I must agree. The rushing waters of Walton Creek, the towering Walton Creek Falls - also referred to as June Falls, the granite canyons, old growth aspen and spruce trees, elk and deer, and sounds of coyotes at night was just the beginning, I live nearby and can say in all honesty, you had to be there to truly appreciate the lifestyle these 12 owners enjoy. Our sincere appreciation goes out to Mary and the staff of Storm Mountain Ranch for such a peaceful and enlightening week. If you would like more information on this "natural sanctuary away from the hectic pace of this world" - Contact- Dean Laird - 877-678-0884 Dean@mybrokers.com Colorado Group Realty - Broker/Owner Exclusive Listing Broker for "A Log Home Retreat at Storm Mountain Ranch"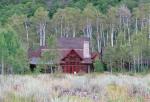 Coming Soon!

See more details about Storm Mountain Ranch

See more details about Ranch