Thursday, March 3, 2011

See more details about One Steamboat Place
Looking for a deal on the highest quality luxury ski-in condo Steamboat has to offer? You'll want to watch the progress on One Steamboat Place which is currently making news. Steamboat Today reports:

$100 million in unpaid construction debt at One Steamboat Place is two weeks away, and the deadline has passed for the original investors to cure or redeem the matter.
The article further states that

One Steamboat Place has been vibrant this winter even with the overlying challenge we've been dealing with.
I can echo that comment as I have several clients with interest in fractional and full ownership at One Steamboat Place. Currently there are no active listings on the Steamboat Springs MLS. I believe the developers of One Steamboat Place is having trouble negotiating their debt because there are 7 construction lenders, some who jumped into the hype of our bustling market in 2006-07 without any experience in resort properties, and are now wondering what they should do. If the 2 equity investors and 7 construction lenders could all see eye-to-eye and had allowed the sales team to make some deals as the market soured, they wouldn't be in this position. More than a year ago I presented an offer to them for a 3-bedroom whole ownership. The developer would have liked to make the deal, but per the sales representative for Timber Resorts, the banks were not allowing the discount. This has been a typical process since the start of the national real estate decline several year ago; why can't they learn from others' past experience? Wildhorse lenders should take note! Buyers out there are looking for deals - take a cut out of the boat's bottom without puncturing the hull and the boat still floats! Steamboat's luxury development Highmark had several distressed or bank-owned listings all of which have sold. Buyers with cash who have been watching our market for the past 2 years are jumping at the opportunity to scoop up the deals as soon as they hit the market. I'm currently in negotiations on 2 bank-owned properties and both are in multiple offer situations. Since January I've presented over 10 offers for buyers on various bank owned properties and all have either sold or are under contract. I'll continue to keep an eye on One Steamboat Place. Feel free to give me call to talk more about our ski in ski out real estate offerings. Or check out my Ski condo website. Dean Laird Broker/Owner Colorado Group Realty 870-846-8284 Office at the base of the mountain, specializing in mountain area real estate
Technorati Tags: luxury ski-in condo Steamboat, One Steamboat Place, One Steamboat Place, Steamboat Springs MLS, One Steamboat Place, Wildhorse, Steamboat's luxury development, Highmark, bank-owned properties, bank owned properties

See more details about One Steamboat Place
Friday, November 19, 2010

See more details about One Steamboat Place
Ok… the good news first - Champagne Powder® snow is on order along with the usual turkey and trimmings! Steamboat will be serving up a full plate of fun with 5 lifts, approximately 926 acres and 66 trails, including much of its legendary tree-skiing terrain in Shadows and Closet. For just $30, Steamboat will dish out a lift ticket on opening day, Wednesday November 24th, and donate all proceeds to benefit the local youths in the Steamboat Springs Winter Sports Club. We haven't seen early season conditions like these since 1996/97 winter. A series of storms have dumped nearly 4-1/2 feet of snow this month and 6 feet of snow since October 23rd at Thunderhead, the resort's mid-mountain location at 9,080 feet. Steamboat is currently reporting a remarkable 52-inch base at the summit, the largest ever seen for an opening day. And snow will continue to accumulate starting Sunday and lasting till the opening on Wednesday.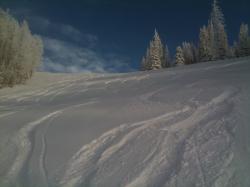 Meteorologists are calling for a La Niña weather cycle this winter and Steamboat often does very well during the stronger events. So far so good! Mike at SnowAlarm and I decided to hike to Hurricane this past week to send you a taste of what's on tap for this winter - powder skiing! Oh - did I mention that One Steamboat Place is in foreclosure? Lets keep with the good buzz and I'll write about this debacle later. Or you can check out the news. https://www.steamboatpilot.com/news/2010/nov/17/one-steamboat-place-foreclosure/ Steamboat Condos is your reliable source for a chance at our lifestyle. Stop by my ski in office and I'll show you around the mountain. And talk about the great deals on real estate in Steamboat Springs, Colorado. Dean Laird Broker/Owner Colorado Group Realty Direct 877-678-0884

See more details about One Steamboat Place
Saturday, September 11, 2010

See more details about Real Estate
If your family or friends are giving you grief for considering the idea of becoming a ski bum, you may want to point them to this story - who says being a Steamboat ski bum can't pay off? In 1994, two ski instructors opened the Smart Wool Company.

Smart Wool had another record-breaking year with revenues nearing the $100 million mark and sold more than 10 million pairs of socks in addition to its growing apparel line.
Steamboat Today The original owners, Patty and Peter Duke no longer own Smart Wool, but they are positioning themselves to continue the success story with their newest Steamboat Springs-based sock company - Point 6 If that is not enough convincing that doing what you want to do in life can lead to success, see these other successful companies that have spun out of this small Colorado town while Biking, Hiking, and Kayaking.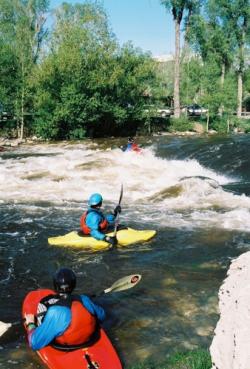 Erikson Cycles Boa lacing system for shoes and more Kayaking and Paddling Magazine/ or if you play really hard, you may just end up like this guy. Johnny Spillane - 2010 Olympic Silver Medalist. For information on more about the lifestyle in Steamboat Springs, contact a Realtor that has spent his life living in resort towns. Dean Laird, Broker/Owner Colorado Group Realty 877-678-0884

See more details about Real Estate