Wednesday, April 4, 2012
Steamboat auction of Trailhead condos - fire sale pricing. A 3 bedroom residence originally advertised at $1,600,000 was just advertised at $425,000.
Sounds too good to be true? It might very well be!
$425,000 is the minimum bid price, but it's not the reserve price ( "unpublished" price determined by the seller)
Make sure you read the fine print. This is a good example of why you should be represented by a Real Estate Agent when deciding if this opportunity is for you.
As stated in Trailhead Auction Brochure by Kennedy Wilson:
The list price is the opening bid for Auction Day: Sunday, May 6th.
All residences including unit 4104, 3 bed, 3 bath, 1544 sq ft unit advertised at $425,000 "have an "unpublished" reserve price, which means that the seller has established an "unpublished" minimum selling price. The Starting Bid is not the reserve price. The highest bid is subject to acceptance by the seller.
All offers are subject to Seller's acceptance and will not be reviewed prior to auction date:5/6/2012
The builder reserves the right to modify features, plans, specifications, and materials without notice
The square footage shown is approximate and is not based upon the dimensions shown in the condominium plan and does not reflect the usable square footage of the interior ares of a unit.
It is the responsibility of all prospective buyers to inspect the residences prior to the auction and satisfy themselves as to their physical condition
Purchasers will become members of the Trailhead Lodge Homeowners association and Wildhorse Meadows Master Association.

Auction preview is open daily from 11AM to 6PM
Auction Day Sunday May 6th, 2012 1PM at Denver Marriott City Center.
Bidders are advised to arrive no later than noon.
Auction Seminar Sunday April 29 at 1PM

The HOA (Home owners association) costs include an outdoor heated pool, several hot tubs, athletic facilities and a gondola. How will these costs and other land transfers effect the monthly HOA cost and what is the history?
Call Dean Laird to register for the auction 970-846-8284 or contact me.
Sunday, February 19, 2012
Buyers looking for high-end, luxury condominiums in Steamboat Springs are in a great position to find some deals. A recent surge of price reductions and developer incentives has increased interest in some of the best properties on the market. Demand is still lagging supply, however there have been 16 sales over $800,000 for condos and townhomes in the downtown and mountain areas since November 2011, and our busiest selling season is just beginning.
The relative abundance of luxury real estate has sellers competing for buyers to keep this recent condo buying trend in motion. For example, the developers of the ski-in/ski-out luxury condos at Edgemont are offering to pay three years of HOA dues on the next sale of any of the 13 remaining condos. They are also offering two years of paid HOA dues estimated at $22,000 annually for the next phase of to-be-built four and five bedroom townhomes. And while the townhomes are being built, they will provide use of Edgemont Ridge condos for up to two weeks in both the winter and summer seasons!
Two other properties, Cimmaron Townhomes across the street from the Steamboat Ski Area, and Norwegian Log, an older ski-in/ski-out are also offering a price reduction.
Bear Lodge at Trappeur's Crossing is offering 25% off the next sale of their remaining new 3 or 4 bedroom luxury condominiums located one block from the base of the Steamboat Ski Resort. The offer also includes paid HOA dues for 3 years.
Recently discounted pricing makes these high-end condos an attractive deal for anyone looking for resort properties. Listing prices are less than $500 per square foot.
Newly constructed Trailhead Lodge at Wildhorse Meadows slashed prices of its fully-furnished condos up to 50% off the original listings with prices now in the mid-$400 per square foot range.
Deals don't stop at the ski area. In downtown Steamboat Springs condos in the newly constructed Howelsen Place and Alpenglow Lofts have incentives also. Up to 25% off at Howelsen Place and 35% at Alpenglow on the next two sales at each property.
Technorati Tags: luxury condominiums, Steamboat Springs, luxury real estate, ski-in/ski-out luxury condos, Edgemont, Edgemont Ridge condos, Cimmaron Townhomes, Steamboat Ski Area, Norwegian Log, ski-in/ski-out, Bear Lodge at Trappeur's Crossing, luxury condominiums, Steamboat Ski Resort, high-end condos, resort properties, Trailhead Lodge at Wildhorse Meadows, furnished condos, ski area, downtown Steamboat Springs condos, Howelsen Place, Alpenglow Lofts, Howelsen Place, Alpenglow, property
Friday, January 27, 2012
Effective January 1, 2013, a new 3.8 percent tax on some investments is slated to affect real estate transactions.
The is a complicated tax and while I'm not a tax accountant, here are the basics:
The 3.8 percent tax passed by Congress in 2010 won't affect all real estate purchases.
The tax may be applied to income from interest, dividends, rents (less expenses) and capital gains (less capital losses) for individuals with an adjusted gross income (AGI) above $200,000 and couples filing a joint return with more than $250,000 AGI.
The new tax applies to the lesser of 1) investment income amount 2) excess of AGI over the $200,000 or $250,000 amount.
One Example:
Let's say you are married and have $300,000 in adjusted gross income (AGI) and sold your principal residence for a $600,000 gain. $500,000 of the $600,000 is the standard deduction for a married couple.
The Math:
AGI Before Taxable Gain $300,000
Gain on Sale of Residence $600,000
Taxable Gain (Added to AGI) $100,000 ($600,000-$500,000, standard deduction for married couple)
New AGI $400,000 ($300,000+$100,000)
Excess of AGI over $250,000 $150,000 ($400,000-$250,000)
Lesser Amount (Taxable) $100,000 ($100,000 is less than the $150,000 so taxable gain is on the $100,000)
Tax Due $3,800 (.038 x $100,000)
Watch out for the chain emails stating this is a tax on all real estate transactions, because that info is false.
This new tax is supposed to raise $210 billion (over 10 years), representing more than half of the total new expenditures in the health care reform package. I support the National Association of Realtor which strongly objected to this tax, but the legislation passed on a largely party line vote.
For questions about how this affects your sale in Steamboat Springs, Colorado real estate purchase, contact me.
Dean Laird
Colorado Group Realty Broker/Owner
dean@mybrokers.com
970-846-8284
Saturday, January 21, 2012
Planning to vacation in Steamboat soon? Our local management companies such as Steamboat Resorts and Resort Quest are top notch for service, but you may find as good or better deal using one of the internet companies.
Looking at the rental income statements for my Sellers using a local management company, its pretty typical to see only 50% of the nightly rental income ending up in the pockets of the owner. If the that owner lists with one of the following companies, then most of that rental income ends up in their pocket, allowing the flexibility to offer cheaper Steamboat condo and home rentals.
For most property owners trying to rent on their own, scheduling key service, cleaning, and maintenance is more of a burden then they want to deal with. For those who have a system they can offer some good deals on vacation rentals in Steamboat.
Here are a few examples:
http://www.airbnb.com/
http://VRBO.com
http://HomeAway.com
The New York Times reports on how to surf for a vacation rental.
If you have questions about rental investment real estate in the Steamboat Springs real estate market, condos and homes for sale or would like a list of the local vacation rental services, I'm here to help.
Dean Laird
Broker/Owner Colorado Group Realty
deanlaird@gmail.com
http://skicondos4sale.com
http://steamboatfinehomes.com
Technorati Tags: Steamboat, Steamboat Resorts, Resort Quest, rental income, condo, home, rentals, Steamboat Springs real estate
Friday, January 20, 2012
Thank you to Stan Urban with Steamboat's Land Title Company for the following real estate sales information.
December was a good month for Steamboat Springs real estate in Routt county with $47M in gross volume from 136 transactions, making it the third strongest in volume of the year and coming in +72% higher than last December in number of transactions. Luxury properties and large commercial purchase contributed to the strong December numbers.
All in all, it's still a bit of a mixed bag. Our year-end Gross Dollar Volume of $450M, was slightly off 2010 (-12.01%) with transactions showing a slightly heavier decline of (-23.06%). There has been a high number of Fractional Sales we have had over the past 3 years.
Bank sales continue to be a factor with 18 this month.
Loans were up – with a total of 170 recorded for December, making December the highest transaction loan month this year.
Highest PPSF for December 2011:
12/30/2011: $2,825,000 Edgemont ski-in/ski-out Condo Unit 2803 aka 2410 Ski Trail Lane, #2803 – 5 Bedroom 5 Bath YOC 2009 with 3,642 SF Living Area. PPSF is $775.67. This is a new construction sale on Steamboat Mountain.
Highest Priced Sale for December 2011:
12/29/2011: $4,500,000 City South Subdivision Lot 1, Mid Valley Business Center #2 Lot 2, M&B: Sec 20-6-84 – 3 Commercial Parcels: All Vacant Commercially zoned, with a combined land size of 14.52 AC. This property is located at 1440 Pine Grove Road. PPAC is $309,917. This was a Bank Sale.
Other sales over $1.4M:
12/28/2011 $2,050,000 Sanctuary Subdivision #5 Lot 132 Re-plat aka 3050 Clearwater Trail - 4 Bedroom 4.5 Bath YOC 2006 with 5,808 SF Living Area on 1.48 AC Land. PPSF is $352.96.
12/14/2011: $1,425,000 Big Valley Ranch at Steamboat Subdivision #2A Lot 25 aka 28880 Skyline Drive – 3 Bedroom 3.5 Bath YOC 1992 with 4,636 SF Living Area on 36.10 AC Land. PPSF is $307.38
Technorati Tags: Steamboat Springs real estate, Routt county, Bank sales, Edgemont, ski-in/ski-out, Condo, new construction, Steamboat, Sanctuary, Big Valley Ranch
Friday, January 6, 2012
Deals at Highmark Steamboat Springs and Trappeur's Crossing Condominiums in the Steamboat Springs real estate market were snatched up at nearly half the price/sq.ft. of other ski-in/ski-out real estate developments such as One Steamboat Place and Edgemont. Quality finishes and walk to the ski slope access made these deals even more attractive with Highmark selling from $355 to $455/sq.ft. in 2011; the price range was dependent on location and views, and 5 of the 6 sales at Highmark were distressed. Trappeur's Crossing condos price ranges, including Timberline, Champagne, Aspen, Emerald and Bear Lodge, were from $320/sq.ft. for Timberline to the newer construction and higher quality finishes of Bear Lodge at $500/sq.ft. for a 5 bedroom. None of the Trappeur's Crossings sales were distressed.
In contrast, One Steamboat place sales ranged from $629/sq.ft. to $926/sq.ft. for their premier property. These sale prices are 30-40% off their original release prices in 2007! Edgemont recently closed their 5 bedroom bunk house with the magnificant views for $780/sq.ft.; the top sale was $826/sq.ft.
Many more exceptional deals can be had at other ski-in/ski-out and close-to-the-slopes properties in Steamboat Springs. A few to watch include Trailhead at Wildhorse at about 50% off original list price, Eagleridge selling well below 2007 pricing and we're beginning to see some better deals at Chateau Chamonix.
Technorati Tags: Highmark, Steamboat Springs, Trappeur's Crossing, Steamboat Springs real estate, ski-in/ski-out, One Steamboat Place, Edgemont, Timberline, Champagne, Aspen, Emerald, Bear Lodge, distressed, Trailhead at Wildhorse, Eagleridge, Chateau Chamonix
Thursday, December 22, 2011
November was a great month for the Steamboat Springs real estate market, up quite a bit over last year's November. (90%) Gross volume in November came in at $51,948,300, and had a total of 125 Transactions. This big shot in the arm leaves your YTD, Gross volume slightly off last YTD, but under -10%. Transaction wise, November was strong with 125 transactions, although general transaction numbers are still down.
There was strong residential activity in November. 66 of the transactions were for Improved Residential properties (up from 47 last month). In an addition, all of the Residential trend-point totals are showing up green. The upper end residential market was very favorable in November, as you'll see in the Price Point summary and by the highlighted sales below.
Bank sales are also up this month with a total of 15.
Sales over $1.5M:
11/29/2011 $2,475,000 Robbins Subdivision Lot 117 aka 0674 Steamboat Boulevard – 5 Bedroom 6 Bath YOC 2007 with 7,305 SF Living Area on .60 AC Land. PPSF is $338.81.
11/7/2011 $1,850,000 Eagle Glen #1 Replat Lot 1, Eagleridge Lot 1, Block 4 aka 1451 Eagle Glen Drive – 4 Bedroom 5 Bath YOC 2004 with 4,741 SF Living Area on .31 AC Land. PPSF is $390.21
Technorati Tags: Steamboat Springs real estate, residential, Bank sales, Robbins, Eagleridge
Saturday, November 19, 2011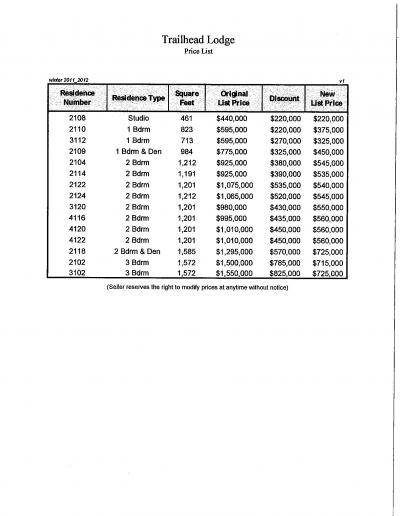 Trailhead Lodge releases winter 2011-2012 price list with huge reductions in the Steamboat Springs real estate market. Some of these units have discounts greater than 50%! The snow is flying here at the Steamboat Ski Area and opening is a few days away, so now is the time to snap up the current bargains.
Contact me for more information.
Technorati Tags: Trailhead Lodge, Steamboat Springs real estate, Steamboat Ski Area