Saturday, September 11, 2010

See more details about Real Estate
If your family or friends are giving you grief for considering the idea of becoming a ski bum, you may want to point them to this story - who says being a Steamboat ski bum can't pay off? In 1994, two ski instructors opened the Smart Wool Company.

Smart Wool had another record-breaking year with revenues nearing the $100 million mark and sold more than 10 million pairs of socks in addition to its growing apparel line.
Steamboat Today The original owners, Patty and Peter Duke no longer own Smart Wool, but they are positioning themselves to continue the success story with their newest Steamboat Springs-based sock company - Point 6 If that is not enough convincing that doing what you want to do in life can lead to success, see these other successful companies that have spun out of this small Colorado town while Biking, Hiking, and Kayaking.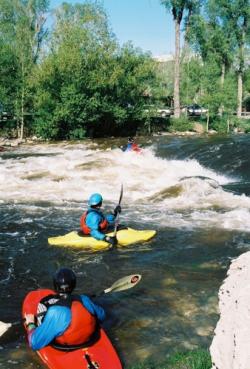 Erikson Cycles Boa lacing system for shoes and more Kayaking and Paddling Magazine/ or if you play really hard, you may just end up like this guy. Johnny Spillane - 2010 Olympic Silver Medalist. For information on more about the lifestyle in Steamboat Springs, contact a Realtor that has spent his life living in resort towns. Dean Laird, Broker/Owner Colorado Group Realty 877-678-0884

See more details about Real Estate
Wednesday, September 8, 2010
A fresh reminder this isn't the big city! And there is plenty of work in Steamboat. The moving van arrives on Friday and I need 3-4 strong people to help shuffle furniture and fixtures up 3 flight flights of stairs in a luxury condo. Cleaning by tomorrow, paint touch ups by today, locate a couple of new fixtures for the living area and bath, check out the boiler, adjust the garage door and a few other items are all on order before my Buyers arrive for closing on their real estate purchase this Friday. Earlier this summer I heard often from my contractor and service industry friends that business was slow, so I didn't worry about booking home maintenance services early. Come to find out, that there apparently is no shortage of jobs in Steamboat. The moving company was booked until 2 weeks out, 3 cleaning ladies called to say they were all booked, the painter out a week, carpet cleaner and plumber/mechanical contractor for the boiler radiant heat system can't fit me in and suggested another company, and I'm still trying to find someone to adjust the garage door. All day was spent trying to find services in Steamboat. My predicament reminds me the busy days of 2007; to get something done quick, I have to throw on the tool belt and get to work. Its good to see that Steamboat is buzzing along again for the service industry. Contractors who are good at what they do are staying plenty busy. When real estate is selling again, demand for reliable services is high. I'm fortunate to have a reliable source of friends who can squeeze me in between jobs in a pinch. Steamboat's strengthening economy should be a sign of what's around the corner in the real estate market. Dean Laird Broker/Owner Colorado Group Realty 877-678-0884
Monday, September 6, 2010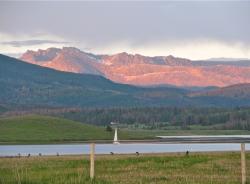 Its hard to beat this lifestyle just 30 minutes north of Steamboat Springs, Colorado. Real estate for sale near the shores of Steamboat Lake are found at Captain's Cove or Contact Dean Laird, Colorado Group Realty - Broker/Owner with over 14 years in land sales experience. 877-678-0884.
Technorati Tags: Steamboat Springs, Colorado, Steamboat Lake, Colorado Group Realty, land sales

See more details about Lodge

See more details about Trappeurs Crossing
The developers of Trappeur's Crossing Resort's Bear Lodge are wrapping up the summer selling season with a final push to sell 3 more condominiums at drastically lowered prices.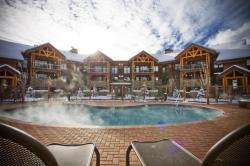 The deal: 30% off the next 3 sales of any of our unsold 3, 3 + den, 4, or 5 bedroom condos. Prices include a full turn-key developer furniture package. The Trappeur's community center has seen close to a million dollars in upgrades over the past two years, making it one of the premiere Steamboat resorts for convenience and comfort. The Steamboat Ski Resort base area is within walking distance or a shuttle is available for quick access to the slopes or downtown. One of the popular choices for vacationers is the garden level courtyard condos such as unit 6111 with 3 bedrooms and 3 full baths. This luxury condo offers a private 500 sq. ft. patio complete with a hot tub, outdoor gas fireplace and BBQ grill. The popularity results in the best rental revenue numbers in the entire resort. 1727 sq.ft floor plan is ample room for family entertaining. The amenities include an expansive gym with a mixture of free weights, stationary bikes, Stairmasters®, treadmills and Nautilus ® equipment. Pool, hot tubs, tennis courts and a putting green are in your own backyard. And when your are completely exhausted following a day of play, pampering service is waiting for you at the full service day spa. Contact Dean Laird - Broker/Owner at Colorado Group Realty to take advantage of this limited opportunity. 877-678-0884. Or see my website - SteamboatCondos4Sale.com for more info on Steamboat Springs condominiums.

See more details about Lodge

See more details about Trappeurs Crossing
Sunday, September 5, 2010

See more details about Storm Mountain Ranch

See more details about Ranch
A banging sound outside my window this morning awoke me about 3 AM. Rules to follow in the fall - don't leave your window open next to the trash in the kitchen or you may just bump into a friend looking more than a fresh cup of Joe.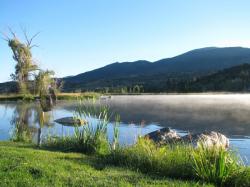 The bears are looking for food, the thermometer is registering at 32 degrees and below, and the aspen trees are turning. It is fall 2010 in Steamboat. Michelle, Nolan and I spent the past week as a guest of Storm Mountain Ranch. I can't say there is a better way to wrap up summer, than staying home for a vacation, so to speak. I still worked all week, but it just didn't feel like it. The hospitality, landscape and serenity of this majestic setting were beyond words. We rowed a boat at sunset, caught 9 or so 2+ pound trout on fly rods, fired up the BBQ at night and sat by the beachfront fire. The days were warm enough to play in the sand and water, and cool nights provided for a beautiful sunrise with steam rising from the ponds. There were no lights around you at night, so the stars reminded me my days camping outside civilization. However, this was just 5 minutes to downtown Steamboat Springs! And Nolan - my 3 year old son, reminded me of that - "Dad lets go get dessert at the gas station" - our new nightly routine.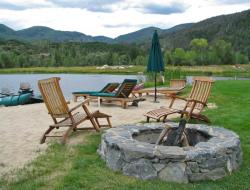 In a week we saw just a fraction of the 1,063 acres. I had heard this is like your own National Park and having visited many in my lifetime, I must agree. The rushing waters of Walton Creek, the towering Walton Creek Falls - also referred to as June Falls, the granite canyons, old growth aspen and spruce trees, elk and deer, and sounds of coyotes at night was just the beginning, I live nearby and can say in all honesty, you had to be there to truly appreciate the lifestyle these 12 owners enjoy. Our sincere appreciation goes out to Mary and the staff of Storm Mountain Ranch for such a peaceful and enlightening week. If you would like more information on this "natural sanctuary away from the hectic pace of this world" - Contact- Dean Laird - 877-678-0884 Dean@mybrokers.com Colorado Group Realty - Broker/Owner Exclusive Listing Broker for "A Log Home Retreat at Storm Mountain Ranch"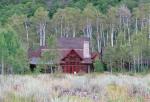 Coming Soon!

See more details about Storm Mountain Ranch

See more details about Ranch
Saturday, September 4, 2010
Single family homes in the immediate Steamboat Springs area, (with-in 15 minutes drive) has declined to under 5 homes. Sales for foreclosure condos, townhomes and residential homes has maintained a steady pace resulting in less choices for distressed property. Of 30 or so REO (Real Estate Owned = post foreclosure) homes, most are in Stagecoach, Oak Creek or Hayden areas. To watch the list, see Steamboat Springs Foreclosed Real Estate. or Contact Dean Laird, Broker/Owner Colorado Group Realty 877-678-0884.

See more details about Ranch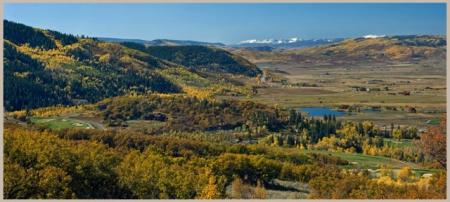 New luxury homes offering the absolute best views Steamboat Springs, Colorado has to offer, are showing up on the southern slopes of Alpine Mountain Ranch. The ranch is a 1,216-acre land preservation development with 63 five-acre homesites down the hill from the slopes of the Steamboat Ski Resort. The southwestern exposure offers excellent views of the Yampa River valley to the Flat Tops, Priest Creek, Walton Creek riparian corridors, downtown and Steamboat ski area. The first home to be constructed is around 10,000 sqft, custom built for the home owner who has moved here with his family for full time residency. Seeing an increasing demand for newer construction, 4 or more bedrooms and a bit of land to breath, the owners of Alpine Mountain Ranch felt the time is now to begin a beautiful custom home to be ready for the real estate market by the 1st of the year. They are asking $4,600,000. To request a brochure for this luxury home or more information on this newer ranch land community just 5 minutes from downtown Steamboat Springs, call Dean Laird - Broker/Owner Colorado Group Realty. 877-678-0884. Or visit my website for more photos and information on Alpine Mountain Ranch.
Technorati Tags: luxury homes, Steamboat Springs, Colorado, Alpine Mountain Ranch, land preservation development, Steamboat Ski Resort, Yampa River, Flat Tops, Steamboat ski area, Alpine Mountain Ranch, real estate market, luxury home, ranch land community, downtown Steamboat Springs, Colorado Group Realty

See more details about Ranch